Legalbet handicapper Georgie Makarov predicts a Rodolfo Vieira victory in the UFC 248.
Forecast for the prelim fight. Tournament in Las Vegas, Nevada. 
Rodolfo Vieira
Vieira is a title-winning, black belt ju jitsu fighter. He is a four-time world champion in Brazilian Ju Jitsu and has won the World Cup seven times. Rodolfo is 30 years old, from Rio, and has a professional MMA record of 6-0. Before switching to the UFC, he fought in the ASA organization. Vieira retired from Ju Jitsu competitions and switched to mixed martial arts with his friend Marcus Almeida in 2016. After posting a 5-0 record in Brazilian and Russian promotions, Vieira was signed by the UFC in 2019. He made his debut against the Polish fighter Oscar Pehota, where he dominated the stalls throughout the first round, even getting into the rack, and at the end of the second round managed to finish the opponent with a triangle hand. 
Saparbeg Safarov
Safarov was born on October 14, 1986 (33 years old) and is a native of Makhachkala, Dagestan. Saparberg is a master of combat sports in both sambo and freestyle wrestling. He began his career in the M-1 organization, racking up an 8-0 record (six knockouts and two subs). In December 2016, Safarov signed a contract with the UFC, making his debut on short notice against Gian Villante. The fighters arranged a hard exchange with a set of knockdowns, resulting in both being very tired by the second round. Safarov got a leg injury, and Villante was finally able to finish the Russian in the middle of the second round by a technical knockout. Then, on February 11, 2018 at UFC 221, Safarov was matched up against Tyson Pedro. He lost the fight in the first round. Starting off at 2-0, Safarov needed a win like a fish needs water to avoid being fired.  Against the Romanian Nicolae Negumereanu, Safarov grabbed his first UFC win, as the Negumereanu displayed poor protection from takedowns and quickly tired, as a result.  
Prediction
Saparbeg Safarov has had endurance problems his entire career, and now he will go down in weight by 22 lbs, which will also affect his cardio. Safarov at the beginning of the fight has the ability to deliver a knockout blow, but his technique in the stands leaves a lot to be desired. Safarov's only win in the UFC came in a fight lasting three rounds, as soon as he begins, he will try to press Vieira into the cage, where he will find trouble. Vieira is physically very strong and while he can fight in the stalls all evening without losing much endurance, I believe this fight will sooner or later move to the flooring, where Rodolfo will employ submission.
Victory Viera
Bet
1.60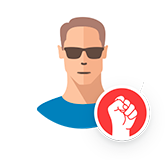 Subscribe
Since July 2017, he has made more than 1,000 predictions for martial arts and received more than 200% of net profit with ROI over 9%.
Since July 2017, he has made more than 1,000 predictions for martial arts and received more than 200% of net profit with ROI over 9%.
Subscribe
All time