You don't pay for integration - this is our business model.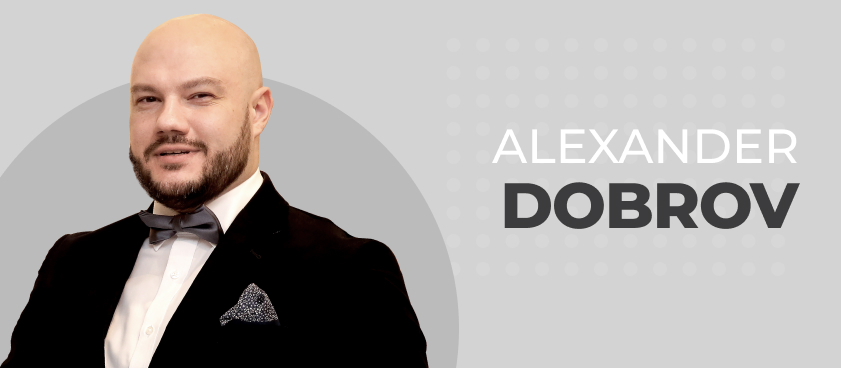 About the expert:
He is the TVBET business development representative in CIS. Since 2010 he has worked in large IT companies such as System Group, AllBiz, New Media Group, National Media Group, Forbes etc. He's been working in gambling since 2014 creating and managing B2B products. He launched the "Betting Business Russia" online magazine. He is a partner of Betting Media Group PR and took part in due diligence of large media actives of CIS and Europe.
In this article Alexander Dobrov tells us about the specialities of the product, the company's business model, and what it is like working around the world and a tale of betting on Klichko.
Two years and we're not a startup anymore
How did you get to TVBET? Can you tell us about the Company?

I joined TVBET two years ago in 2019. We have made a lot of interesting things since. We've been to almost every continent on Earth. We've been to Africa and to almost every European country. We've tried our best to promote TVBET everywhere we can.
The company was established in 2016 but they started entering the world market in 2019. We have found over 200 new partners with full live games integration in five regions (Europe, CIS, Latin America, Africa, Asia) in the course of 2019-2020.
Our team has been increasing since the launch and now there are over 150 employees of TVBET in four countries: Poland, Ukraine, Cyprus, and Russia.
Is it difficult to promote a product to new markets?
There were me and a few other guys in the sales department at the initial stage. Now I am the only one remaining. I personally have a big sales volume. Total GGR is 1m Euros for sure. The thing is that I know the industry very well. Almost all of the operators are my real friends. That's why I can easily talk to them and describe my product. It worked.
How did you communicate with the operators you didn't know?
I have all the necessary skills to negotiate successfully. I can communicate with people and I like doing it. Besides, TVBET product is already formed and it's still pretty fresh. We keep on developing it and becoming better all the time. GGR is growing.
I believe the growth is at least 38%. It's a very good number considering the fact that the market has become conservative for us. A couple of years ago we thought we were a startup growing 60-80% per annum. This year has shown that we can maintain a suitable growth, but we can't consider ourselves a startup anymore.
Now we sell more to some larger operators this leads to certain obligations. However we have a potential for making really cool projects in different markets. We pick some smaller projects too in order to keep increasing the volume.
I can highlight 1xBet, Parimatch, Mostbet, BetCity amongst the CIS operators we have had integrations with.
"You don't pay for integration" - this is our basic business model. We give you resources - you integrate them. We will take an acceptable percentage from the income generated. That's it. That's why even some small projects are a priority for us. If we were to work with a large bookmaker like Fonbet and an almost unknown one simultaneously, we would integrate in parallel, sharing time and resources. We have enough IT specialists for that.
Has this model existed since the very beginning, or you changed your business plan?
The market dictated terms for the model to be created. Market and price (not always) play the role in such a conservative market as gambling. You can achieve something thanks to connections and credibility only. It's a lot like an oil market which is even more conservative. I hope we will always play the price and keep the model we have now.
We should achieve top quality this year
You mention growth despite the ongoing COVID-19 pandemic? How did you manage to maintain positive dynamics?
Exhibitions used to give us such opportunities. We attended almost all of the large exhibitions.
What was a stand at an exhibition for TVBET back then? It was visibility in the market. Of those who visited our stands, five per cent made immediate deals. This was the moment when you could take a hot client that wanted the product. We needed only a month or two, three tops, to close the deal and make an integration. Exhibitions used to give us an opportunity to get long-term clients, i.e. those who attended our stands but started a deal later, within six months, a year or even more.
I can give you an example. I attended an ICE exhibition and met a guy from Latin America there. He called me later having found my phone number somehow. He called and told me: Let's integrate! Although we communicated a year before it happened.
I'm talking about tiny details, which are 100% important for the market. Companies' managers should understand such details when they launch a product. Exhibitions have a lot of effects both short-term and long-term.
And now there are no exhibitions...
This is true. However we keep on receiving long-term clients. We can't detect and tell you the exact number but some people say that they saw us once and that they remembered us and they're interested in our product which is stand alone in their opinion.
There have been online exhibitions since March 2020. All the largest magazines organized virtual events. SBC made something crazy in the Internet, they organized one-two events monthly. The events were the same, but the topics were different. One could get access to managers of different companies.
I communicated with them, explained how we could cooperate and we started sales issues. It played its role, too. We tried to use all the opportunities.
What is special about your products in the market?
It's design, first of all. I can place us alongside the largest Live Casino operators although we're not one of them. We are Live Games which is a separate thing. It's closer to TV lotteries.
In my opinion TV lotteries are a dead segment which moved to the Internet because the audience moved there. So, we kind of made that transfer.
In addition to our company I can also highlight Evolution Gaming and maybe even Ezugi, although I personally don't like them. Evolution Gaming works around design very carefully. They have their own style. We formed our authentical style, too. We define how the models are dressed, what kind of equipment the studios have, how broadcasting and interactives are formed. It gives UX that a person gets interacting with the product. This is the main criteria.
Besides this we divided all the things that the product contains into small parts. The board set a task to become the most quality company this year. Everything should be of top quality, every small detail. We're working over a unique audiodesign right now. So, we're growing, and everyone can notice it.
Can we say that products like that have saved the business during the COVID-19 pandemic?
When the pandemic started in February-March last year the majority of bettors left the company, only a few remained. All the products that share common things like sports, games, slots etc. have lost players.
In the case of sports the decline in the number of bettors made the situation critical. Only local championships organized especially for bookmakers saved it. I mean something like the TT Cup, Setka Cup. It created at least some kind of a content. The Belarusian football championship and E-sports remained, too. In general the lines were so small that no one published them actively. We used to make screenshots to save the bookmakers' bad situation in history.
We noticed a big transfer from sports and other games to us. We saw it in common dynamics. During the first strict lockdown month TVBET saw a 31% betting increase. The operators, that we contact well with, share the financial information about the other products with us. We had some kind of growth compared to the others.
Your product is fast bets. Is it the future of gambling and betting?
Let's take dinner as an example. We want to eat an omelet. But we will also take a tomato, a piece of bread. But the main part is still the omelet. Let's look at betting. People who place bets on sports use the other products like an appetizer for the main meal. The sports take most of their attention.
It's a parallel consumption. Still there are people who are lucky and they get jackpots. We have an inner system that lets operators work with jackpots easily and award the people with them very often. A lucky person's gonna switch to an interesting game. These factors needs to be taken into account.
That's the strategy we maintain working with operators when we plan marketing campaigns that include jackpots besides classic free bets. We have some kind of a mix of slots and betting. However we reach classic lottery games with attraction elements in the end. There is enjoyable graphics and design. The audience likes it and the stay with us forever.
The people of Latin America aren't interested in the European presentations
Do you have some other solutions for bookmakers, besides TV lotteries?
No. We have nothing in our portfolio, besides our main products. The most important thing though is that we're growing as a gaming company. We have occupied all popular markets. Going to local ones was the best option for our future growth.
It was surprising when we found that the Latin American market is very similar to the CIS one in terms of bettors' motivation, their gambling exitement, and involvement. Still we need to be stronger to create a product there. I mean both the language issues and product parts. Games need to be customized for Latin America.
The same is true for Asia. It's a very unique market. The Asians don't understand the games that we're used to. Their games are specific, animated, you need a particular graphics approach and you need to create a product in a unique way.
We're working over that direction, too. Soon you will see some new products and new games. We're planning to launch about five games this year.
What are the main specific traits of a CIS and a Latin American player?
Well, the first thing is the countries' economics. These are all third world countries, so the average income is very similar. It is lower in Latin America but still it's close to countries like Ukraine, Armenia or Georgia. The legislative approach is very interesting and specific in Latin America, too. 
Another thing is a big amount of football fans. In Latin America football prevails as the most loved sport. As we are a product connected with sports, fans are the audience that understands the odds. The main mechanics of our games are based upon the odds. All games are divided into standard playing situations that are evaluated by specific odds.
A bettor understands what poker is very well. If you know poker and/or betting, you will understand what to do and how to win in our game situations very easily, too. I like poker most out of all of our games.
Finally, people of Latin America are most used to see female presenters of their ethnicity. The same is true for Africa. That's why we have to customize our product and we have to take local specifics into account. Including our presenters casting. It's true for each market where we operate.
Is the presenters' ranking counted?
Yes, I used to ask this question, too. We know which presenters are more attractive. We know that gamblers make more bets during the broadcasts of particular presenters. We have rewards for the best workers. Some of our presenters are more successful, we used to mark them with stars on our old website version. TOP-3 was always highlighted on the screen.
What geographical places are the most successful and active in your business?
I guess CIS first of all. We started to launch the business there initially. It is the most active market amongst the others for volume. It is surprising but European performs are almost the same. Africa is actively developing. We have exclusive partnerships there that let us grow.
We're interested in the Latin American market a lot. We have examples of very successful partnerships that we underestimated initially. But they show astonishing results now. For example, there is a small country in the Caribbean sea where we have results that are better than in many other countries. I'm talking about Haiti. Of course, this is more of an operator's success with their audience. Still the fact is interesting.
The poorer the population they spend more of their income? Or is that not correct?
Yeah, it's the same story. There are two key factors. People want to become rich and they want to spend their leisure time. It's hard to separate these factors.
When our operators make mistakes people react aggressively sometimes. In countries like Haiti they can even come to an office armed. Our retail shop was set on fire once. People lose their money and can't understand why although they see that a bet was just calculated incorrectly.
The most progressive approach is in Belarus
How do legislative regulations of different countries affect you?
Directly. We often encounter legal restrictions in CIS. For example, we hoped that we would meet some relaxations in Russia, but the last changes in the legislation actually restricted the possibility to work with our legal bookmakers.
As for the other countries, I can say that Belarus has the most progressive approach to the business in all aspects. Most of our games are legal there and we actively work we the largest local operators like Parimatch, Maxline, BETCITY.
We are negotiating with other operators that work on this market and we cooperate with the Belorussian Ministry of Finance.
I've heard an opinion that it's quite hard for an operator in Belarus to comply with all the legislative requirements. Do you agree with that?
Maybe it's true for operators. I'm not an expert in this case, but everything is simple for us: the requirements are transparent, we completely comply with them. Operators should make an application, we prepare documents and specifications for the ministry. We have a response within a month. Of course, it depends on operators and their communication with the ministry, but basically it's quite simple. We already have permissions for three operators, and it's not hard for us to make the list larger.
What kind of a role should betting play for a person do you think?
I support the common notion that betting is for fun only. It's a basic way of entertaining - betting with friends and checking yourself and your inner prejudice. Can I guess what team I'd better bet on? How will the team I support play? Can I guess three results at once? Maybe I'll be able to make a winning combined bet of five events? It's a matter of a challenge and personal expertise. I believe this is what it is.
Is this the way that you personally have placed bets?
Yes, this is the way I placed bets, too. But also it happened in the opposite way. I placed bets when I knew for sure that it would be a winning one. I'm talking about betting on boxing and particularly Klichko. I bet on him and increased my salary.
Still Klichko could lose, too. And Fury, and Joshua…
Sure, that's why betting should be for fun only.