Tyson Fury vs. Agit Kabayel: Preview and Thoughts on the December Fight (Canceled)
The well-known English boxer Tyson Fury is getting ready to defend his title, as final arrangements are currently being made for a fight with undefeated fighter Agit Kabayel.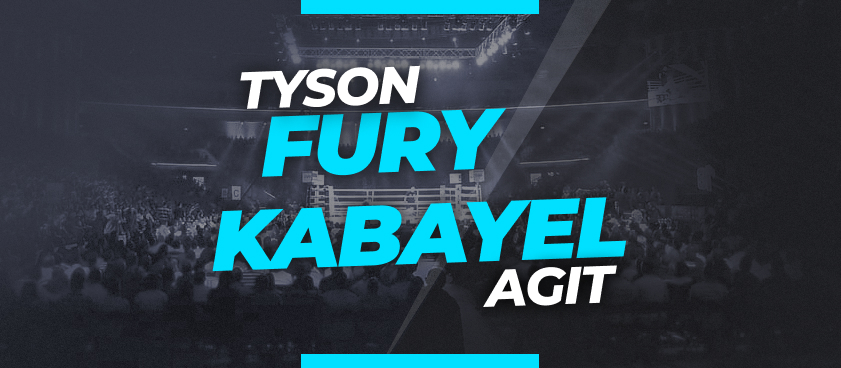 The Gypsy King will hold his first WBC Heavyweight Title Defense on December 5, 2020, in London. His opponent will be the ex-European heavyweight champion, and the reigning WBA continental champion Agit Kabayel. The exact venue for the bout as well as the start time for the event has not yet been released.
Tyson vs Kabayel Betting Odds
Agit has yet to lose a single fight in his professional career, however, Tyson Fury will undoubtedly be the favourite. Why? Fury now. After a crushing rematch with ex-WBC fighter Deontay Wilder, looks like an unstoppable force who is fighting at the peak of his form. 
Tale of the Tape
| | | |
| --- | --- | --- |
| Tyson Fury | | Agit Kabayel |
| 31 | Fights | 20 |
| 30 | Victories | 20 |
| 21 | KO Knockouts | 13 |
| 0 | Defeats  | 0 |
| 1 | Draws/ No Contest | 0 |
| 6'7  | Height | 6'2 |
| 291 lbs | Weight | 235 lbs |
| 32 | Age | 28 |
Tyson Fury
Champion of Great Britain according to the ABA. The current WBC world champion. Former IBF, WBA, WBO, IBO World Champion. EBU European Champion. Winner of Boxer of the Year and Comeback of the Year awards by The Ring Magazine. 

31 fights, 30 wins, 0 losses, 1 draw
How Tyson Fury Can Win
In February 2020, the undefeated Gypsy King finally proved his unconditional superiority of Deontay Wilder and, like the early Connor McGregor, proved that "accuracy still beats power, and timing beats speed". 
Incredibly light-looking for his enormous weight, Fury has dealt with the former champion without any problems and is now preparing to hold his first title defence against the young prospect.
For months on the network, they discussed the prospect of Tyson's fight with Anthony Joshua. However, at the moment all the talk about signing this contract has died down.
Now Tyson is faced with a seemingly very simple task - to consolidate his status before, perhaps, the main fight in his career. But is it really an easy walk?
Even though Fury is considered to be the favourite, the first thing that should not be expected in the upcoming fight is a knockout. Throughout his 20 fights, Kabayel has proven that he can withstand even the most powerful of blows, managing to keep on his feet.
For reference, at the end of his fight with Derek Chisora, he took several heavy and straight punches at once, but still went forward and in a mocking manner asked Chisora for more. 
Regardless, Tyson is superior to his upcoming opponent in multiple aspects of the fight. Agit likes to keep a high pace in the early rounds, however, the speed still does not reach Fury's level, who seems to get faster with each fight. 
The second is endurance. If the fight drags on, Kabayel is known to get gassed and slow down, while Fury is able to correctly distribute his forces so that his transition to recovery phase is almost indistinguishable from the full force. 
But the main advantages of the Gypsy, no matter how trite it may sound, are fighting intelligence and experience. Tyson fought with top opponents and proved everything he could to critics. He was in difficult situations, rose from knockdowns and now became much smarter and more circumspect.
For this upcoming fight, he will attempt to keep Kabayel at a distance for as long as possible, and he does not have to force all of his energy into ending the fight early. He understands how terrible Agit's overhead is and will do everything possible to wear him down.
Agit Kabayel 
Reigning WBA Continental Champion, Former EBU European Champion, EBU-EU European Union Champion, WBC Mediterranean Champion.

20 Fights, 20 Wins, 0 Losses
What Agit can do to win
Agit began his professional boxing career in 2011, and during his time fighting, he has managed to scare many heavyweights. The German of Kurdish origin has fought almost all of his bouts in Germany and will go to Britain for the first time. 
The main thing that Kabayel will need to do in order to prepare for this fight is forgotten about all of the other fighters he has crossed paths with, as Tyson Fury is on a completely different level. 
Teak, for example, Agita's fight with Evgenios Lazaridis for the vacant WBA Continental title. The heavy, monotonous and straightforward Greek was slower then Kabayel that the fighter was able to only occasionally slow down.
Compared to Lazaridis, Kabayel looked incredibly quick, however even if you combine their speeds, it still does not compare with Fury's ease.
Does Kabayel have any shot of winning? There are a critical few, and everything depends on the level of his coaches and training camp.
In the fight with Tyson, Kabayel must start working with focus from the very start and not allow the Englishman to dance around him. Only by shortening the distance between himself and Fury to the maximum level and being aggressive from the start will there be a chance for him to win.
This gets even more exciting when you realize that it is necessary for Kabayel to knock out the champion within the first seven to eight rounds. If the fight lasts longer, Tyson will find a dozen ways to snatch points and secure himself a confident victory.
However, Fury has never lost by a knockout, and it seems to be only an imaginative dream that a 28-year-old heavyweight prospect would be the first to do it.