Khabib vs. Gaethje: Bets and Sportsbook Odds on the UFC 254 Main Event
Undoubtedly the main event at UFC 254 will be Khabib Nurmagomedov vs Justin Gaethje. The fight will be held on October 24th on Yas Island in Abu Dhabi. The start time for the main event is set at 2:00 PM EST, despite UFC president Dana White hinted that the fight might take place a little later than scheduled (and they usually do).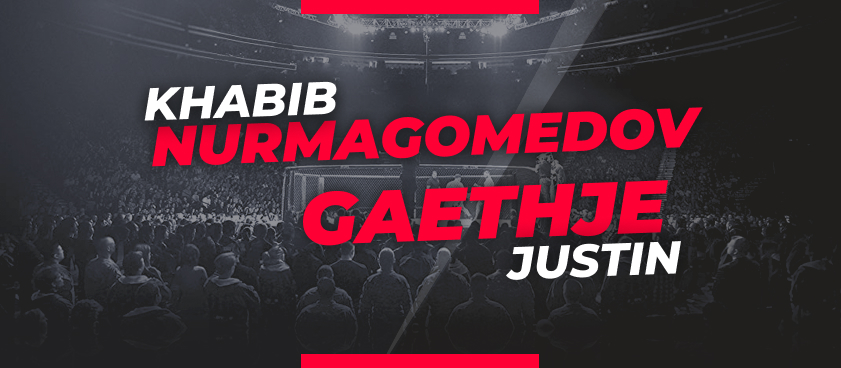 Bookmakers have been eagerly awaiting what will be a massive event for them, preparing a wide variety of markets for the fight. Somewhat unsurprisingly, the Russian fighter is the clear favourite going into the fight.
An unexpected twist was added to the fight when White stated that if Khabib is to win this fight against Gaethje, the Russian fighter will once again be squared up against Tony Ferguson. UFC fans can only hope that this time the long-awaited matchup will finally come to fruition.
Bookmakers Odds for Khabib vs. Gaethje
Sportsbooks in Nigeria have already given the status of a clear favourite to the Russian Khabib. This is expected and certainly nothing new as it would be difficult to remember a time when Khabib was not listed as the favourite for one of his fights. Nigerian bookmakers have obviously followed suit and as you can see the odds gap between the two fighters is considerable.
Khabib vs. Gaethje Fight Analysis
Even before analysing the statistics of this fight, it is becoming increasingly clear that the fight is unlikely to last all five rounds. Khabib is the best wrestler in the division and is currently in the prime of his career. Each fighter will be doing their best to deny the judges the opportunity to decide the fight's outcome.
Both fighters are currently experiencing good runs of form. Khabib will enter the fight coming off the success of two straight wins, while Gaethje enters having won his last four fights, most notably his thrashing of Tony Ferguson in UFC 249.
Taking into consideration the fact that both fighters have a tendency to end their fights with finishing moves, we can assume three probable outcomes for how the fight will end:
Knockout;

TKO;

Disqualification of one of the fighters.
Statistics and Measurements
| | | |
| --- | --- | --- |
| Khabib Nurmagomedov | | Justin Gaethje |
| 28 | Fights | 24 |
| 28 | Wins | 22 |
| 0 | Losses | 2 |
| 0 | Draws | 0 |
| 178 | Height | 178 |
| 70 | Weight | 70 |
| 31 | Age | 31 |
Khabib Nurmagomedov
The reigning UFC lightweight champion. Top wrestler, grappler and undefeated fighter in the UFC.
28 fights, 28 wins, 0 losses.
Over the past few months, there has been a noticeable rise in confrontations between Khabib's fans and his critics. The Russian fighter has been accused of deliberately refusing to fight with Tony Ferguson. The accusation holds some ground, as Ferguson was widely expected to be the most dangerous opponent for the undefeated fighter.
However, the what and what not of the previous fight have, for now, become irrelevant: Khabib is scheduled to meet with Gaethje in the Octagon. Despite the fact that Dana White agreed with Khabib to postpone the meeting from taking place in the Summer to instead being held in Autumn, further negotiations are not expected to take place. There is nowhere left to hide for Khabib, without considerably damaging his image.
Nurmagomedov demonstrated adequate boxing skills in his fight with Conor McGregor, but he became much more cautious and hesitant after missing several punches. The same situation was witnessed in Khabib's fight with Dustin Poirier. It is thus noteworthy when analyzing this fight to mention that neither McGregor nor Poirier have the same punching power and resilience that Gaethje has demonstrated.
Khabib will once again need to use his strength to control the fight and push the American into the corner of the cage. If we take into account the strength of Gaethje, then we speculate that the Russian has a maximum of about two rounds to achieve this. Justin will not fear Khabib's passes or the jabs that come his way. He will trade blows and look for an opportunity to deliver devastating blows that can shake the Russian fighter.
Nevertheless, Nurmagomedov still has speed and endurance. With the Russian in his prime, we suspect that he will look to end the fight with a classic chokehold in the beginning rounds.
Khabib's Current Form
Khabib is to this day an undefeated fighter, and we know that no matter which of his last five fights we look at, they will all show a capital 'V' for next to his name. Looking at the previous five fights, we do not find any unique dynamics between them. Khabib finished the tactical matchups while making a promise to put a stop to Gaethje.
| | | |
| --- | --- | --- |
| Event date | Rival | Result |
| 7 September 2019 | Dustin Poirier  | Victory |
| 6 October 2018 | Conor McGregor | Victory |
| 7 April 2018 | Al Iaquinta  | Victory  |
| 30 October 2017 | Edson Barboza  | Victory  |
| 12 November 2016 | Michael Johnson  | Victory  |
Justin Gaethje
Multiple UFC Performance of the Night award winner. The current interim lightweight champion.
24 fights, 22 wins, 2 losses.
Strong as an anvil and as straightforward as it gets. Despite not having the gangster image attached to him that fellow fighters Diaz and Masvidal have, Gathje has gained the reputation as a "bad-boy knockout" who is not afraid to miss punches and is ready to sacrifice his health to win. 
In the review of his last fight, we discussed the fact that Gaethje does not have a pronounced signature fighting style. However, in the fight against Ferguson, he appeared to be a first-class boxer by UFC standards. The speed and frequency with which Gaethje released his blows were almost difficult to believe for fans.
The gaps in Gaethje's defence are made up for by his precision, speed and strength, and Ferguson's cracked skull is proof of that. This will serve as Justin's main advantage in the fight, as it is unlikely that Khabib will be able to withstand the same number of blows that Tony suffered.
However, it is not likely he will be afforded many opportunities to deliver these blows. If Khabib is able to successfully wear down Gaethje, the speed of his punches can be drastically reduced. We predict that Gaethje will not waste time in the first few rounds, and will instead immediately try to gain the upper hand on his opponent. Meanwhile, Khabib never immediately throws himself at an opponent, instead of allowing distance in an effort to evaluate the opponent's movement.
In conclusion, despite the current odds, Gaethje can truly become the first fighter who, if not knocking Khabib out, inflicts the first major damage to the Russian. There is no doubt in the minds of UFC fans that this is shaping up to be a fight that was worth the long wait.
Gaethje's Previous Fights
Unlike his upcoming opponent, none of Justin's previous five fights has ended on points. Gaethje in this role is the classic version of a 'Win or Die' fighter. Over the entire specified period, Gaethje has lost only once, in 2018, by a knockout in the fourth round to Dustin Poirier. Afterwhich, he rebooted his career by knocking out the next four fighters. The most difficult opponent for him was Ferguson, a meeting which lasted all five rounds. Barbosa, Cerrone and Wick were already defeated in the first five minutes.
Event date

Rival

Result

9 May 2020
Tony Ferguson

Victory

14 September 2019
Donald Cerrone


Victory

 

31 March 2019
Edson Barboza


Victory



26 August 2018
James Vick


Victory



14 April 2018
Dustin Poirier


Defeat
Predictions for Khabib – Gaethje from fighters and MMA community
Georges St-Pierre (Ex-champion and UFC legend)
– It's not gonna be an easy walk in the park for Khabib. It'll be a very hard fight for him, he must concentrate only on this fight and forget about the other plans for the future. Khabib always starts a fight in a defending manner, slightly increasing his psychological pressure. That's why Justin will have a chance to reach his opponent exactly in the first seconds. However, I can hardly imagine that Khabib wouldn't go for the takedown and pin-up Gaethje to the cage. If I were to place a big bet I would choose the Russian as a favourite.
Anthony Smith (UFC Light Heavyweight)
– On a subconscious level, I feel that Geathje will win. If someone could create a person with skills to beat Khabib, it would be Justin. Gaethje is a perfect fighter. No one appreciates it now, but he can protect from takedown very well, you'll see it. So, I have a good feeling about Gaethje. Who else can stop Nurmagomedov?
John McCarthy (Legendary referee, commentator and analyst)
– This fight will be the same as any other fight of Nurmagomedov. We understand perfectly well, what game plan he will have. That's an irony that everybody always knows everything, but no one can do anything with him. That's a phenomenon. Of course, Justin can make a lucky punch that will stop Khabib, but still, I don't think that Gaethje is a favourite in this fight. Khabib's system will not fail.
Henry Cejudo (UFC Flyweight ex-champion)
– It's hard to make predictions for this fight for me because both of them are my friends. I can say that Gaethje's risky fight style will be the key to his victory. He will fight back low kicks and keep the defence from Khabib's attempts. Nurmagomedov is a player, may things in his style are built upon feelings. But one famous Gaethje's low-kick can change the circumstances of the fight.
Eddie Alvarez (UFC ex-lightweight champion)
– I choose Khabib. I doubt that Justin will have time to make up something. I don't know if Gaethje moves well enough to stop Nurmagomedov's takedowns. The fight will go for the takedown most likely. That's why I choose Khabib.
Kamil Gadzhiev (Head of Fight Nights Global)
– Khabib is an obvious favourite for me. Geathje has his strong side, too, for sure. He is very good at wrestling and defending from takedowns, but I think that Nurmagomedov will lead the fight anyway. I think, that Khabib will finish Justin in the fourth round.
Alexander Emelianenko (Russian MMA fighter)
– Gaethje is the most inconvenient opponent for Khabib. The American has already proved that he feels as comfortable in wrestling as in takedowns. As for Khabib, I still don't really understand if he'll really be in a good form and whether he will be eager to win or not. The only thing I can say that it's not gonna be easy for him. Probably, Nurmagomedov is very close to his first loss in MMA now.
Frequently asked question
❓When will the fight between Khabib vs Gaethje take place?
The fight between Khabib Nurmagomedov and Justin Gaethje will take place on October 24th, at 2:00 PM EST.
❓Who will win: Justin Gaethje or Khabib Nurmagomedov?
MMA fighters and most analysts believe that despite Gaethje's wrestling background, Khabib will still win the fight due to his intense pressure and technique.
❓What are the odds for Khabib and Gaethje?
❓Does Gaethje have a chance against Khabib?
Yes, however, in order to hit Khabib Justin will need to take risks and move Khabib to the ground. This must be done or Gaethje will need to successfully defend himself and try and wear out Khabib in the first two rounds.