Carry on profiting from football at 1xBet!
Although we are not seeing any live action in football stadiums, there is no reason not to still be able to enjoy your favourites, and win money because with 1xBet virtually anything is possible.
That's right. This leading sports betting brand brings you bets with great odds on all the best football games in FIFA and PES.
So don't miss out. Get to 1xBet now to enjoy all the football magic!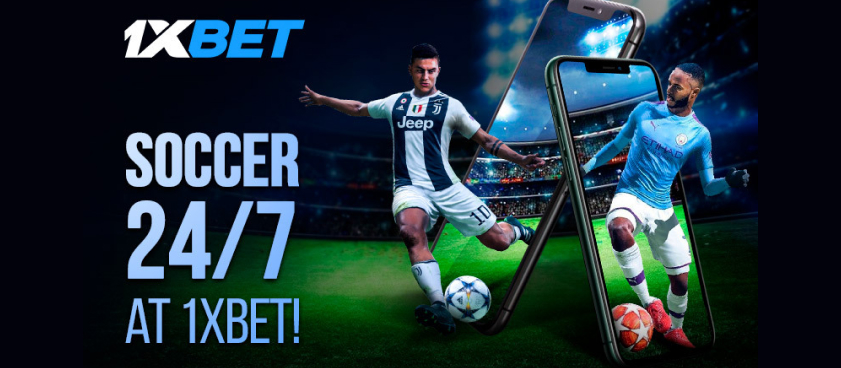 Variety of Tournaments
FIFA and PES bring with them a great deal of betting options for your pleasure. All the biggest football teams participate.  Whether its Arsenal or Manchester City playing in the Premier League you can bet and then revel in the simulated action on FIFA. All the big football stars will appear in the line-up, so you will be able to use the knowledge you have to make the best betting choices.
Just like real live football, there are many tournaments and events to bet on in virtual football. 1xBet offers the opportunity to bet on World Cup matches, as well as the leagues in Spain, Italy, Germany and many others.

Exotic Markets
Virtual football brings with it elements of betting that can't be found in live football.  These exotic markets make for an even more interesting betting experience. For example, English Premier League matches can take place in almost any setting like courtyards!
Games are also not restricted to the standard format so for example Chelsea, Manchester United and other clubs can play in a 4-by-4 format in a courtyard. This leads to all sorts of new betting formations and opportunities to make money.
Great Opportunity to Make Money 
With FIFA and PES, there is no need to wait to make money. There are top-tier games available around the clock for you to bet on at 1xBet. Games are fast and action-packed, taking less than 90 minutes to complete, which means the chance to win is faster than in real football.
With the excellent odds at 1xBet and multiple betting markets like the outcome of the match, total goals, handicap and others you are sure to maximize your winning ability.
No need to wait for real football, bet on FIFA today to win!