Betting in the gambling world is like a fine wine amongst the spirits
About the expert:
Dainis Niedra is a professional betting and gambling manager. He has previously been the Director of an entertainment complex, organized various poker series and he was even the head of the Latvian poker federation. Currently, Dainis is Enlabs Managing Director of Center Eastern Europe (CEE).external linkExternal links are prohibited owns bookmaker Optibet, which is the largest betting operator in the Baltic States.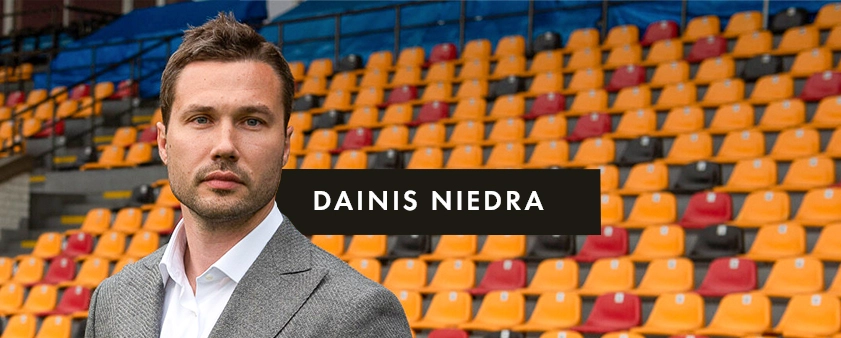 Let's discuss why casino products are winning over sports betting:
We started our business more than 20 years ago by opening Optibet betting retail shops in Latvia. These days we get only 25% of our revenue from betting. The online casino side is now more important for us, our skills and knowledge are wider in this area. That's why it was so important for us to purchase Global Gaming. I've been talking a lot about the deal recently.
We have to focus on the new product because the betting market is beginning to peak, or at least the market is saturated. Casino products on the contrary are continuing to see growth. Once the increasing demand for this product appeared on the market the supply started to grow, too. Some rapidly growing companies with windfall revenues appeared. Although I don't believe that profitability is connected to the vertical so much. Everything depends on the service quality and on the moment of entering the market. New players appeared in the area immediately after that. We got more new games, they were cooler and funnier. For the customers a casino is simple – all you need to do to enjoy the gambling process is push the button.
Sports Betting is a bit more difficult to do. The audience you work with is significantly narrower. Betting is an intellectual form of gambling after all. The black market operators in our part of the world perverted the industry and tried to make it look as "a perfect chance to get money fast and easily". It doesn't change the point that you need to know sports and betting to place bets successfully.
Slots and online casinos are a simpler product, it is a clear entertainment product. If we look at the markets without any product limitations, we'll see that operators in most cases emphasize casino products. Companies still have a lot of sports in their marketing sure, but that is just a wish to use this channel to attract new clients (acquisitions) or to get existing customers to return to your website by reminding them about your company through a popular sports event (retention). The core advantage of betting is in anchor events, both big and small. The clients that choose betting are usually more loyal to a company and remain with an operator for a longer period of time (Their lifetime value is higher).
When I say that the betting market is saturated I mean in comparison to the other products (slots, first of all) where operators have a choice. It's hard to talk about the saturation level of the US market, where everything is only beginning. The relative weight of betting is going to be at the point of 19% of all the gambling total gross revenue next year (both online and retail shops), according to H2GC forecast. The relative weight of betting in 2019 was less than 16%. H2GC is a company that provides data that many businessmen in this area refer to.
I don't believe that their data is particularly precise, so let's look at the data from some other services to have a full picture. Let's take Great Britain, Sweden, and Latvia as examples. Great Britain and Sweden are considered the biggest European markets, Latvia was the first country of the former USSR to issue licenses for online gaming. There is clear official statistics in Latvia. The year of 2014 was a turning point for Great Britain when casino revenues became higher than betting ones. Betting still has a leading role in 2:1 proportion in Sweden.
The online market in Latvia turned to the bright side 13 years ago. The leading product there is a casino now. The relative weight of betting was 72% of the market 5 years ago, now it's only 32%. The share has more than halved.
Mobile betting was the last feature that gave a significant increase for this part of the market. I can see nothing of this scale happening again in the nearest future. There will be local improvements: the service may become slightly better, faster, or more convenient. But still, there will be nothing really significant. Now you can easily watch how the betting is developing. All attention is turned to the USA. If something significant happens, it will start there.
The betting market is so heavy now, that some people can see potential even in fantasy sports, that started to develop in the US. I think that it is a step back and aside. Fantasy betting developed because of the betting restrictions in the United States. I know of no market where the betting is legalized, and fantasy has a significant share. I wouldn't think about this direction as a prospective one, because fantasy sports are even more difficult than betting. Simplicity is always important.
I'd like to highlight though that the simpler product is, the more there is a chance to give a boost to the gambling addiction. There are addicted people in all kinds of gambling. However, we see more gambling addicts in slots and casinos.
Gambling addiction is a mental disease, like alcoholism. That's why we can make some parallels between alcohol beverages and different kinds of gambling.
Betting is wine. You pick the right wine to enjoy your dinner more and to open the flavour of a meal. Placing a bet you make watching a sports event more exciting. People start to drink wine with the simplest brands. People start to place bets with the simplest kinds (X1/X2, total).
Poker is whiskey. Tullamore Dew with Cola at a Friday night party and for example playing an evening tournament in iPoker a couple of times a year just for fun – this is one of those players kinds of drink. Drinking 16-year-old Highland Park and smoking Ashton VSG cigars sitting at a fireplace is like expensive cash games on PokerStars or GGPoker.
Casino games are brandy. Many drink it, only a few really understand what it is. That's why it's much easier to get drunk than to enjoy it.
Slots are vodka. The product that is very easy to understand. Although vodka can be of a different kind, too. You can drink the cheapest one, or the most expensive one – it will taste different but the outcome is the same.
We shouldn't take a problem such as gambling addiction lightly that is for sure. But at the end of this disturbing year, we'd like to relax a bit. So, drink and gamble responsibly and try to relax in the beginning of a new year.