Alexey Babichev: "Benefit of being open - We are seen by an audience that was previously uninterested in betting"
About the expert:
Alexey Babichev officially took over the communications department of Parimatch (Russia) in March 2019. Since then the brand has become one of the most active in Russian media circles. Parimatch cooperates with leading publications and journalists not only in the field of sports but also in business, marketing and IT. They also develop their own pool of influencers and bloggers. Prior to his appointment to Parimatch, Alexey was the PR director of Bwin, the first legal foreign bookmaker in Russia. Before that, he worked with major media companies, communications agencies and large corporations. He has completed hundreds of projects on some of the largest sports events in the world, including working with athletes and celebrities.

How many security guards does Conor McGregor need? (The answer is a lot), how do you choose the right ambassadors and what percentage of the total number of bets struck are made on the UFC? Find out in our exclusive interview with Alexey Babichev.
"Market players should be more active in the information space"
- Please tell us what your responsibilities are in the company?
- I manage all brand communications in Russia, and there are several areas which my team cover. Firstly, all contacts with journalists and mainstream media but also managing Social media strategies, working with brand ambassadors, building and always monitoring our brand reputation.
- How does it come together? Ambassadors - Are there any difficulties managing the ambassadors, when there are complex contract terms and so many different media interactions?
- There is no difficulty as such, all actions are well synchronized between them and us. Due to a large number of activities, we try to saturate the information field and do this constantly. Ambassadors are there as a communication tool, the media are the platforms that allow us to reach the public. Our task is to be open towards our audience, through a constant presence across all media platforms.
At the same time, we understand that you can't always enter the media just like that. You always need to give some kind of interest, content and access to the "figure". At the moment we have a good range of ambassadors. These are global contracts of the Parimatch brand and our local partners.
- Returning to the question of openness. Not all bookmakers set such goals, especially not Russian ones. Why did you do this?
- We wanted to change the stereotypical opinion people have about bookmakers. We strive to ensure that our industry as a whole is perceived as open, understood and well regulated. Together with all global market participants, our task in the future is to gradually change the opinion people have of us. We try to convey that sports betting is entertainment, enhancing excitement and emotions. Parimatch's task is to break down old stereotypes by being fair.  We also leverage our communication tools in the hope of changing the opinion of people who may be thinking about connecting themselves with the betting world.
- What are these negative opinions?
- The main thing is that people believe bookmakers will cheat them. It is important to understand that a legal company has certain obligations. It can't just hold on to and steal the client's funds. Of course, there are many controversial points around this, but in general, we have no right to claim a client's deposit. Clients can turn to the regulators if we did this. If the matter is complicated and a dispute continues then there are higher authorities. Any bettor who is a client of a legal bookmaker in Russia is protected by the law and the rules imposed by the regulator.
- If other market participants are not ready to participate in changing bettors' opinions about bookmakers, can your company do it alone?
- If acting alone our company can initiate some change and influence the background. We try to announce our initiatives loudly, and we try to speak with the audience in an understandable way, in order to achieve the transformation we want. At the same time, it helps when other market players also connect and become more active in spreading the word. This is good because it generates competition which motivates you. There are several companies in the industry that are ready to step in and break stereotypes alongside us. Each client we have is able to properly filter information and form their own opinion. If you read about the background of the company, check who regulates them, look at what the bookmaker offers, check the brand ambassadors, basically just spend a little time on it, and you can form a good overview about each company. However, most Individual users see this as a waste of time and just follow the current trend.
- Is it profitable? All companies rely on a healthy bottom line.
- We see the potential. We look not only at the current sports audiences but also we know there is a huge potential among those who are not yet familiar with sports betting.
During the 2018 World Cup, a lot of new customers joined bookmakers for the first time but only 5 to 10 percent remained with them. Some had higher numbers than others though.
We have a great team of analysts: we see and evaluate the user at every stage of using our product. Our task is to retain them and offer them a product which will be interesting to them. We believe that there is great potential among those who have never been interested in betting on football or indeed any other sport before. We think that as people begin talking openly about us and betting in general there will be great rewards.
"The brand is ready to renew Conor's contract"
- Parimatch began to actively grow a couple of years ago, since the signing of McGregor. How did that process go? Was it hard?
- The story with Conor began with the UFC negotiating with Parimatch at the very top of the company. Sergey Portnov, CEO of Parimatch, is a huge fan of mixed martial arts. He was one of the first to push for the signing of a contract with the UFC. At the same time, discussions with Conor began. We negotiated and signed a contract without any major difficulties.
Conor is a legendary fighter and one of the most popular athletes in the world.  Because of this, there are certain nuances surrounding the preparation of campaign launches and also with the preparation of the content for them. Everyone remembers his appearance in Russia when fans were ready to stay up all night and wait around the hotel just to see him.  He can be hard to get hold of and to film though as his schedule changes rapidly and this can impose some difficulties when preparing content.
- Is he a very expensive asset?
- In short, yes, but I will not go into specific numbers. McGregor's high cost is because of his weight in the media. Just look at his following on social networks - there are 35 million subscribers on Instagram alone, his stories are watched by at least 2-3 million people. Conor generates content all the time. This is a part of the job for his entire team. We are confident that the contract cost is adequately covered by McGregor's value.
If you recall the event in October 2019, when we organized the first visit of Conor to Russia. During that visit, McGregor's historic (and so far only) press conference in Russia took place. During the week, everyone talked exclusively about this. We announced the press conference three days in advance, and the media immediately flooded us with incoming calls in order to get accredited in advance. The gate, which had stood in the backyard of the event site for years, was simply broken down by fans. All of Moscow was following the story and everyone wanted to be closer to the legend. We covered his arrival to the maximum and we continued to follow him from his training to appearing on TV, and the episode in "Evening with Urgant" which became one of the most popular in the history of that talk show.
- So the costs justify themselves?
- We are ready to renew the contract.
- Does Conor have any interesting clauses in the contract? 
- There are certain requirements, and they must be observed because this is fixed in the contract. In Moscow, he was guarded by about 30 professionals including some of the best bodyguards in the business. There are also certain logistical requirements, for example, Mr McGregor will not fly business or first class but instead will choose a private jet.
- As far as I understand it, it was because of him (and the contract with him) that you redesigned the brand 2.5 years ago. Was Conor part of something bigger?
- Of course, this is part of the Parimatch rebranding plan. I believe that the entire rebranding process, from the start to the final approval and all the subsequent PR, is exactly how this should be done. I joined the Parimatch-Russia team exactly at the start of the rebranding, this was one of the first large projects that I was able to work on. I think we did a great job. The brand was quickly accepted by the audience, everyone understood it straight away. We were determined to bring life to the market and we did that. We've got the most striking branding in the industry now. The company's corporate colour - "electric yellow" - is full of energy. It emphasizes the character of Parimatch - strong, bold and bright.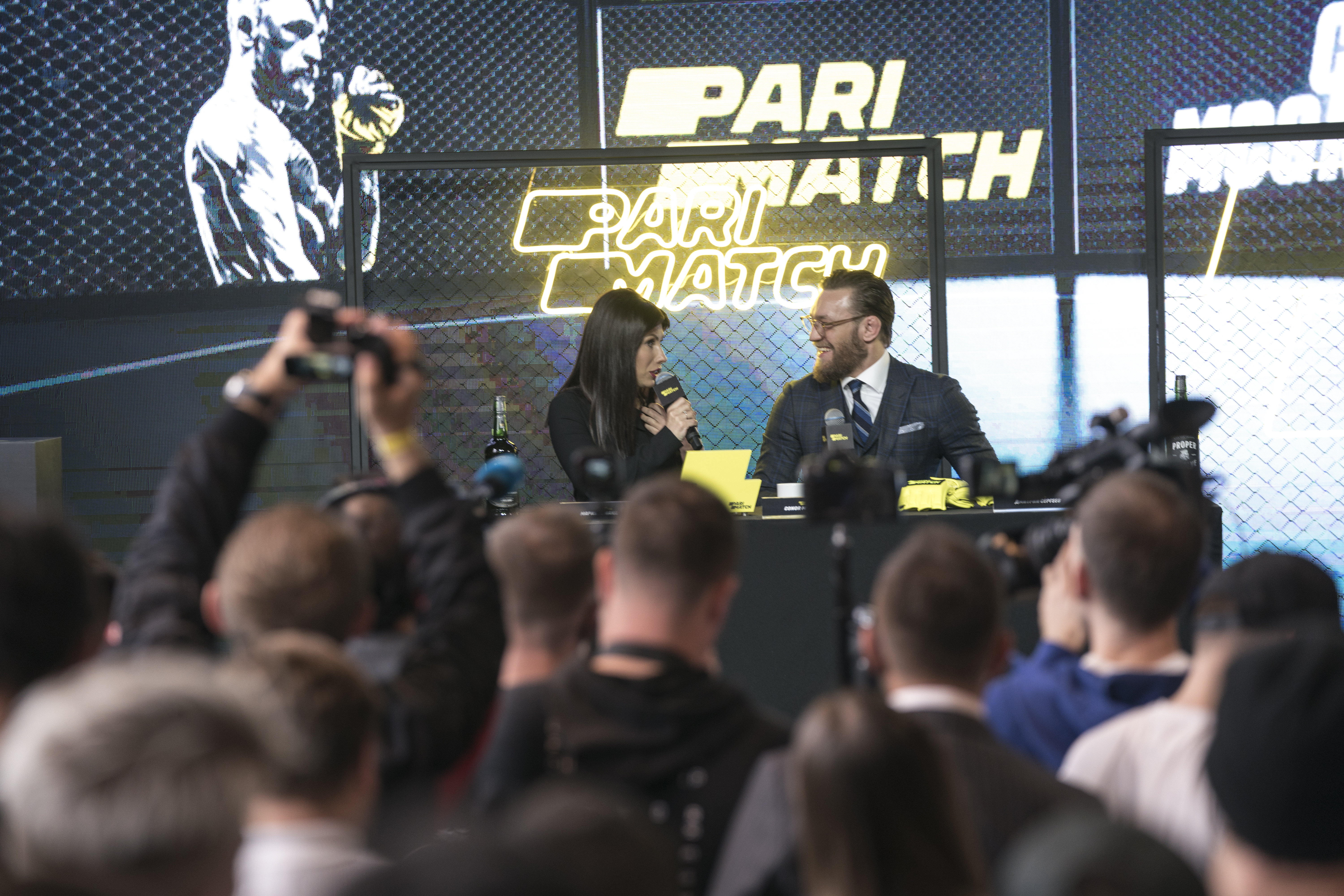 - So how did it happen: the company signs with the UFC and then decides to negotiate with Conor, and there is when Parimatch Russia comes in, which has proposed rebranding for this occasion. Right?
- All teams have formed a single strategy. At that moment, when the details of the contract were agreed, it was decided to make Conor an ambassador. They killed two birds with one stone: they talked about the rebranding and obtained a new ambassador who should strengthen the brand's influence on the market.
As a result, from 2018 to 2019, we showed an increase of 4.5 times, and in 2020 we plan to grow by another 2-3 times, but already in comparison with 2019. We are the fastest growing bookmaker on the market.
"We hardly make any money from the UFC"
- With Conor as the face of the brand, it does not leave the bookmaker much choice other than to feature him prominently. How did the "fight" contracts affect the other betting lines?
- At the stage of signing a contract with the UFC, the task was, among other things, to excite our audience. The popularity of single combat sports is growing, and we in Russia are ready to develop it further. We believe that our company currently has the widest range of UFC lines. We do not earn much from the margin, it is minimal for key fights. If we take the important matches of Russian fighters, for example, Khabib Nurmagomedov or Yana Kunitskaya, then a huge percentage of our clients are betting on Russians. In practice we do not make money on the UFC, the status, image and the growth in popularity of martial arts overall is what is important to us. We feel that we are responsible for moving things in this direction.
- Does the bookmaker earn more on smaller markets and less popular fights?
- We understand that the volume of bets on Russian fighters and on key fights is ten times higher than on small markets.  Small markets make some money but not as much.
- Is there any data on UFC betting? Are you outperforming the competition?
- I could not estimate our specific share, but we definitely surpass our competitors in this area. We have all the UFC events in line, and we are also ready to offer unique betting options. We have always strived to give customers a full experience including customization of betting markets. We give a lot of situational options in lines. For example, Conor declares that he is leaving or returning, and we can give bets on that outcome: when will he return, etc. Not so long ago, a law was passed obliging all legal bookmakers to accept bets only on official sports events. This helps companies who offer similar lines that help them stand out.
- If you look at other ambassadors - how would you assess the effect of working with Petr Yan?
- Petr became our ambassador quite a while ago. We supported him when he was still coming up through the ranks, we believed in him. Now Yan's stature is completely different. This can be seen, among other things, from the results of the press conference that we held a week ago, and from the interest that there was around it, (despite all the restrictions in terms of organizing such events). Here we have chosen well, Petr is a pro not only in the sports, but he also believes in the brand and fulfils his contract with huge interest. We have revised the contract value and will continue to support our champion.
- How does Parimatch choose its ambassadors? Believing in Yan when he is young is not the same as coming to Yan once he is established. Is someone helping you to choose? How do you guess?
- It is important for us to immediately understand who we are signing and do they match our profile or not. It is important that the person is an opinion leader, bold and daring, has a bright and recognizable image, and he must correspond to the brand values. Who is helping us? I consider the Parimatch team as a whole one of the strongest and most united in the business. Not only in betting, but in general, we have the strongest team. When the candidacy is being discussed, there is a circle of employees who take part in that, it is not one person. We make predictions on the future, assess the potential of how the athlete is moving towards their goals. We do not have external consultants, all expertise is concentrated within the company.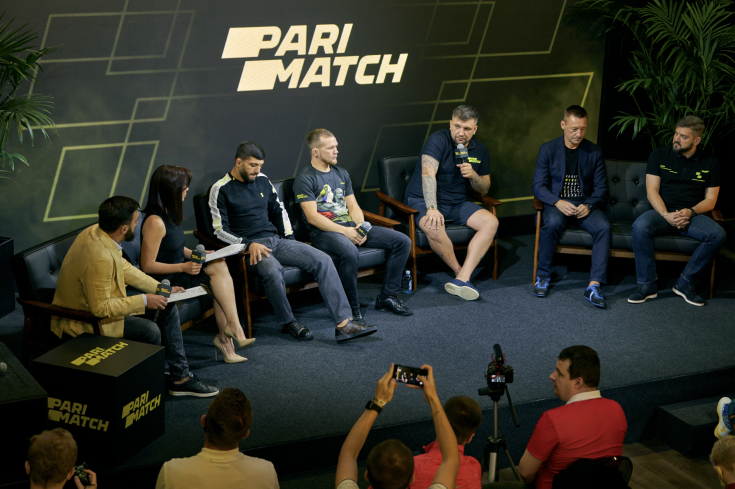 - If we move on to advertising and positioning on the Internet, what integrations are the best and lead to the most conversions?
- Regardless of the channel, it is the design of the advert which influences registrations and first deposits. I cannot say that there is a big difference between the platforms, a lot depends on the audience that is on one channel or another. It can be the same for a conditional opinion leader and a separate betting site. Sometimes the audience will be less targeted. It should be understood that the effectiveness of banners from more popular sports will be higher than UFC banners. The popularity of MMA is growing, but it has not yet reached figures close to football. Our task is to strengthen activity and help the development of the sport as a whole.
- Have you tried to put Conor on football banners?
- We have certain restrictions on the use of images of people in advertising. We can put banners on our website, and a banner with Conor in a bright image will take and work more effectively in theory. Conor knows firsthand about Russian football because the first time he was in Moscow at the invitation of the president, and during the second (our) visit he attended a CSKA match. Conor's image has been used in football creatives on the site, and we plan to do so in the future.
- Is UFC betting in the top 5 within your company?
- Yes, mixed martial arts, in general, are confidently at the top. On average, UFC bets give us 3% to 7% of our total betting volume.